The Restaurant
Dining in our 4 star Hotel Holunderhof
Holunderhof offers many culinary delicacies and specialities as well as a selection of Austria's best wines. Whether you are coming back from the ski slopes, an alpine hike or the Holunder Relax Spa – you can strengthen yourself and be pampered at any time of the day!
We are also happy to cater for external guests in our restaurant – currently only with prior table reservation.
Table Reservation
Restaurant opening hours
Breakfast: daily from 7:00 a.m. to 10:00 a.m.
Lunch: daily from 12:00 a.m. to 2:00 p.m.
Dinner: daily from 6:00 p.m. to 9:00 p.m.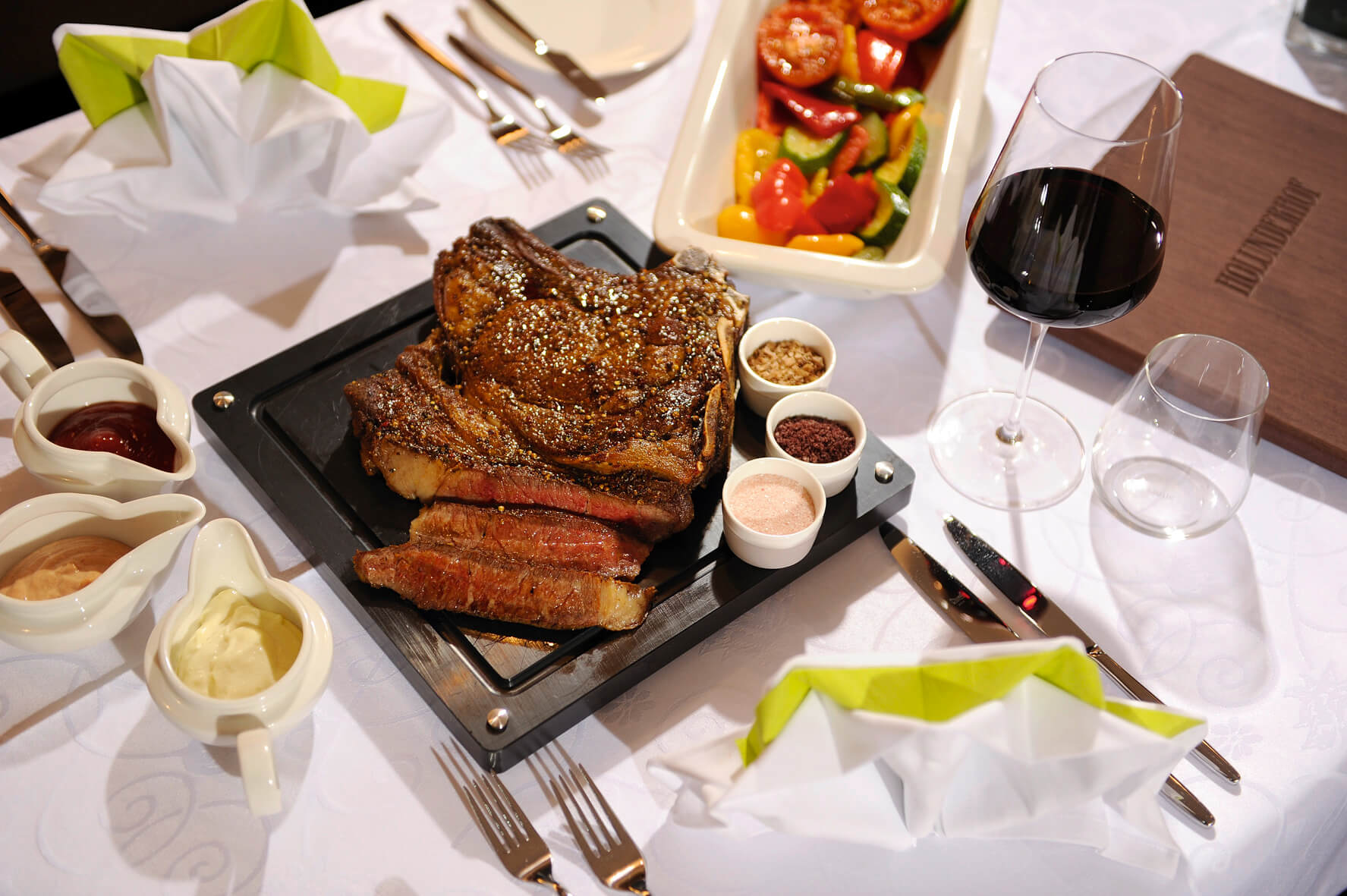 Holunder indulgence
Our meals are served in the stylish restaurant Holunder and in the atmospheric winter garden. In the morning, our kitchen team prepares a healthy breakfast to fortify you for the day ahead.
Different types of bread, muesli and a juice bar – the apple juice comes directly from the producer, the grape juice from a Burgenland vintner and of course elderberry juice – as well as fresh jams, including one with elderberry, are just some of the delicacies.
The rich breakfast buffet offers the perfect vitamin boost for an exciting day in the mountains!
4 course dinner menu
In the evening, our guests can enjoy a wide range of fine cuisine. A 4-course indulgence menu, for example, offers delicious homemade and regional specialities in different variations. The kitchen is particularly renowned for its dry-aged beef, which can be ordered as T-bone steak or côte du boeuf. There is also a salad buffet from which you can help yourself.
The Elder Bar serves aperitifs that you can enjoy before your meal. You can choose from the best wines in Austria to accompany your meal. Our service staff will be happy to give you recommendations for the individual courses.
After the meal, you can finish off with a small glass of elderberry liqueur and end the evening perfectly in our hotel bar.
Table Reservations
If you would like to make a reservation for our elderberry breakfast or our à la carte restaurant, please contact the reception on +43 (0)4852 62766 or use the online reservation form.
Enquiry Form